In March 2020 when the Covid-19 crisis became the dominant narrative, I wrote a fairly lengthy piece on The Great Transformation and what our world could look like, backcasting from late 2020. Some of my observations have panned out pretty well, other ones are still in the making (such as the future of the U.S. – On that note be sure to read my new and pretty daring piece on '2021 Will Bring the Great American Pivoting). Since then, many of you have requested a shorter take on the 'with/post-corona future), so here it is, updated on October 20, 2020. One thing I changed is the designation of the era we are living in, from post corona future to with-corona future as that is our new reality (no, sorry, we are not going back to 'normal').
The Future with Corona
Covid-19 is a great accelerator: anything that was nascent before and that has proven to be of strong value during the crisis (working from home, webinars, e-commerce, remote learning, localised tourism, etc), is here to stay.
Please visit my PostCoronaFuture hub (with weekly updates), watch my short film on the impact of Covid19 (also embedded below), and visit my new 'uncut/full-length keynote videos' page. Read my latest Forbes.com contribution on my key learnings from Covid-19.
Only a crisis – actual or perceived – produces real change. When that crisis occurs, the actions that are taken depend on the ideas that are lying around (Milton Friedman).
So here are some of my ideas that are 'lying around'!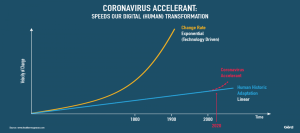 This is not just a great recession – it's a gr8transformation.
» 12 bullets by Futurist Gerd Leonhard Post-Corona Foresights (updated 10:20:20) Download
» Download the pdf of my latest FORBES.com piece: A Futurist's Learnings From The Corona-Crisis, And Some Key Foresights Download